Mobile Massage Fort Myers Fl
We Bring Our Expertise to You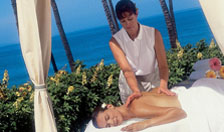 Fort Myers, Sanibel and Captiva Islands have some of the most beautiful homes, hotels and resorts in the country. Why not enjoy a massage in your own setting? No commute, no noisy salon, no busy spa, just you and your own time to relax. We bring everything necessary for a wonderfully healing experience.
The staff of Fort Myers Acupuncture and Massage has been serving the residents and visitors of Fort Myers, Sanibel & Captiva for over 19 years, from celebrities and royalty to accountants and soccer moms. Our therapists are skilled at creating just the right experience for your health and wellbeing. Let us show you why we're the best! Let us make your special event even more special! Call us for your Wedding Party, Business Conference or Family Reunion and ask about our Group Discounts.
Costs Less Than you Would Pay at a Spa or Salon!
Relaxation Massage: 1 hour $109 | 1.5 hours $149
Therapeutic Massage: 1 hour $119 | 1.5 hours $159
Onsite Chair Massage: 1 hour $100
Travel Charges
On Sanibel


From the Lighthouse to west to Rabbit Road, $15 per therapist.
From Rabbit Road west to Blind Pass, $20 per therapist.
At The Sanctuary Golf and Tennis Club, $25 per therapist.

On Captiva Island – $30 per therapist.
At South Seas Resort – $35 per therapist.
In Fort Myers – South McGregor Area – no charge.
Please Note
Florida state law prevents us from providing massage therapy treatments in public places such as at the beach or in a park or nature preserve.
If you are staying in a resort or hotel, your massage must be given in your room or on your lanai or balcony, not in common areas like around the pool or on the lawn.
If you are staying in a private home Massage Fort Myers Fl treatments may be given anywhere on the property.
Please understand that Massage Fort Myers Fl Therapy is hard work and conditions must be appropriate for the therapist to work outdoors. Specifically, not too hot, too humid, too windy or too many bugs. Please understand if we are unable to do your massage outdoors due to unfavorable conditions.