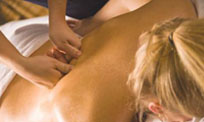 Therapeutic Massage
A specialized treatment intended to bring balance and ease to areas of spasm, pain, stiffness, or other complaint. Often used are therapeutic oils, balms, and hot and cold therapy. Our unique Integrated Approach combines an array of manual therapies, including Neuromuscular Therapy, Myofascial Release, Trigger Point Release, Lymphatic Drainage and more. Please note that a therapeutic Fort Myers massage is typically not a full body massage.
1/2 hour $45 | 1 hour $89 | 1.5 hours $129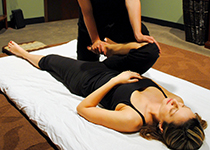 Thai Massage
Thai massage is more energizing and rigorous than more classic forms of Fort Myers massage. Thai massage is also called Thai yoga massage, because the therapist uses his or her hands, knees, legs, and feet to move you into a series of yoga-like stretches. Muscle compression, joint mobilization, and acupressure are also used during treatment.
1/2 hour $45 | 1 hour $89 | 1.5 hours $129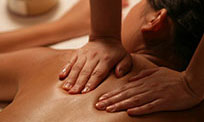 Deep Tissue Massage
Deep tissue Fort Myers massage addresses dysfunctions and imbalances in the deeper layers of the soft tissue of the body, primarily the deep fascia which wraps around muscles and organs. Firm pressure is used.
1 hour $89 | 1.5 hours $129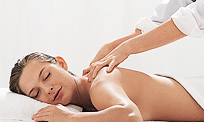 Relaxation Massage (Swedish)
A flowing, nurturing experience that lulls mind and body into a deep sense of peace. Traditional Swedish Fort Myers massage techniques, passive stretching, range of motion exercises, healing lotions and oils, and wonderfully soothing music all help you to let go of the ordinary and reconnect to the extraordinary. Usually a full body massage, the high stress areas of the head, neck, shoulders, and lower back are gently soothed and calmed with long, smooth strokes. Very specific draping techniques are used to assure client comfort.
1/2 hour $40 | 1 hour $79 | 1.5 hours $119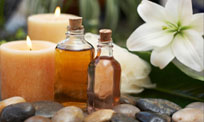 Aromatherapy Massage
A luxurious Swedish Fort Myers massage including premium essential oils used in specific combinations to promote physical, mental and emotional healing. Essential oils such as lavender, lemon, geranium, tea tree, cedar, lemongrass, and orange have powerful anti-stress, anti-bacterial, anti-viral, and anti-fungal properties. Truly a sacred process.
1 hour $89 | 1.5 hours $139 (Or add Aromatherapy to any other service for $10)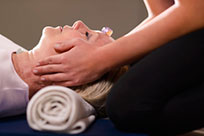 Reiki / Healing Touch
A subtle energy treatment in which the practitioner acts as a conduit for healing Prana, directing it to areas of imbalance in the individual's subtle electrical body. Often an individual's 7 chakras, or energy plexuses can become closed, congested, or off center and affect our mental, emotional and physical health. The techniques of Reiki and Healing Touch address these energy centers and are effective treatments for pain, chronic illness, surgeries and trauma. The client remains clothed and no lotion or oil is used. A very profound experience.
1 hour $99 | 1.5 hours $139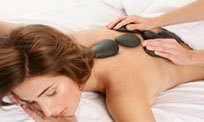 Hot Stone Massage
This treatment combines the healing properties of Swedish Fort Myers massage, sage and eucalyptus herbal oils, heat, and the grounding power of the mineral kingdom. This ancient technique uses glassy smooth Basalt stones to melt and sculpt the fascia and flush and relax the muscles. This therapy is particularly good for relieving deep stiffness or tightness or combating cold & flu.
1 hour $109 | 1.5 hours $139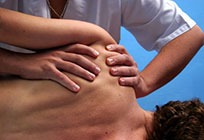 Orthopedic Massage
Advanced techniques intended to address soft tissue problems associated with joint issues. Treats diagnosed medical conditions. May require an Orthopedic Evaluation prior to treatment.
25 minutes $50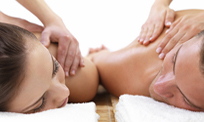 Couples Massage
One of the best ways to spend time with your partner! Relax and heal together. An experience that you will both cherish. Both of you need not get the same type of treatment – you can mix and match so that you can both get exactly the treatment you need to feel your best! A Sports Massage for him, an Aromatherapy Massage for her?
Please note that we are currently unable to offer massages in the same room but can accommodate you in adjacent rooms.
Mobile services are also available.
Couple's Special – Book together at the same time and you both receive Free Aromatherapy! (Must book for 1 hour or longer each.)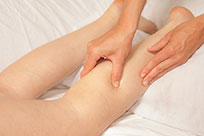 Medical Massage
Like Orthopedic Massage, but specific techniques are prescribed by an MD or DO. Insurance reimbursement usually requires this type of Fort Myers massage treatment.
15 minutes $35 (1/2 hour minimum)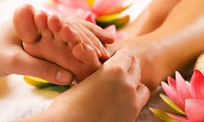 Reflexology
Reflexology is the practice of applying pressure to the feet utilizing specific thumb, finger and hand techniques. The therapy is based on a system of zones and reflex areas that relate to different areas of the body. When the practitioner targets specific points, you can experience a physical change in the corresponding part of the body. Reflexology promotes relaxation, improves circulation, reduces pain, soothes tired feet, and encourages overall healing. Don't worry if you happen to be ticklish; the reflexologist applies firm pressure to the points.
30 minutes $45 | 1 hour $89