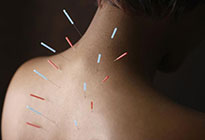 Acupuncture in Fort Myers
Healing with Acupuncture
Acupuncture is recognized by the National Institute of Health (NIH) and the World Health Organization (WHO) to be effective in the treatment of a wide variety of medical problems.
Health Concerns Acupuncture can Help With
Obesity
Osteoarthritis
Pain in dentistry
Peptic ulcer
Periarthritis of shoulder
Polycystic ovary syndrome
Postoperative pain
Premenstrual syndrome
Prostatitis
Raynaud syndrome
Rheumatoid arthritis
Schizophrenia
Sciatica
Sore throat (including tonsillitis)
Spine pain, acute
Sprain
Stiff neck
Stroke
TMJ dysfunction
Tennis elbow
Tobacco dependence
Ulcerative colitis, chronic
Whooping cough (pertussis)
Adverse reactions to radiotherapy and/or chemotherapy
Abdominal pain (in acute gastroenteritis or due to gastrointestinal spasm)
Allergic rhinitis (including hay fever)
Bell's palsy
Cancer pain
Chronic gastritis
Morning sickness
Dysmenorrhoea
Earache
Epistaxis
Facial pain
Facial spasm
Female infertility
Fibromyalgia and fasciitis
Headache
Herpes zoster
Hypertension
Insomnia
Knee pain
Low back pain
Nausea and vomiting
Neck pain
Acupuncture has helped billions of people over the past 5,000 years.
Acupuncture in Fort Myers might not have helped billions (yet), but it helps to relieve symptoms and signs of many health problems.
The goal of this dynamic and integrated health care system is to activate the natural self-healing abilities of the body. It can also strengthen and support the body to prevent future illness and disease.
Acupuncture in Fort Myers is safe, natural, drug-free and effective. It's the perfect way to get well and stay healthy!