Acupuncture Physician,Doctor of Oriental Medicine,Licensed Massage Therapist, & Certified Kripalu Yoga Teacher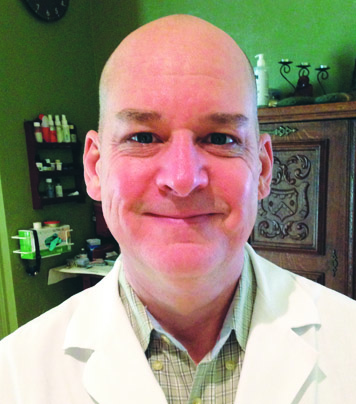 Highlights
• Florida licensed, nationally board certified Acupuncture Physician and
Doctor Of Oriental Medicine specializing in treating musculoskeletal pain and dysfunction, headaches & migraines, gastrointestinal disorders and more.
• Award winning Medical Massage Therapist licensed since 1994, specializing in Medical Massage, Orthopedic Massage and MyoFascial Unwinding
• Certified Kripalu Yoga Teacher with over 20 years experience teaching ongoing classes, workshops and retreats in several styles of yoga and meditation
Experience
Fort Myers Acupuncture Massage – Sanibel Wellness
Fort Myers, FL  –  1993-present
Owner / Physician – Primary care practitioner offering high quality holistic medical care including acupuncture treatments, Chinese herbal medicine, orthopedic massage, therapeutic exercises and yoga and meditation instruction.  Specializing in the treatment of headaches, musculoskeletal sprain and strain, myo-fascial pain syndrome, diabetic neuropathy, post surgical rehabilitation, and stress related illness.
Healthsouth Rehabilitation Hospital, Sarasota, FL   –   2012
Completed externship performing medically authorized Acupuncture treatments in a 96 bed inpatient facility. Treated over 100 patients for postoperative pain, sequela of stroke, Parkinson's disease, multiple sclerosis, Lyme's Disease, ALS, COPD, asthma, pulmonary fibrosis, diabetes, and chemotherapeutic neuropathy.
Hope Hospice, Fort Myers, FL  –  2000-2003
Medical Massage Therapist – Provided massage therapy, Healing Touch, and pet therapy to terminally ill patients in a broad variety of settings.  Specialized in palliative care of patients suffering from ALS.
Cape Coral Hospital, Cape Coral, FL  –  1998-2000
Medical Massage Therapist – Provided massage therapy treatments in a health and wellness club run by the hospital.  Specialized in treating sports injuries.
Sanibel Harbor Resort and Spa, Fort Myers, FL  –  1994-2000
Massage Therapist / Yoga Instructor – Providing Therapeutic Massage and Group Yoga Classes to the guests of the resort. Specialized in Neuromuscular Therapy.
Omega Institute for Holistic Studies, Rhinebeck, NY  –  1999
Massage Therapist – Providing Therapeutic Massage, Reiki, and Thai Massage treatments to the guests and staff of the Institute.
Education
East West College of Natural Medicine, Sarasota, FL   –  2009-2012
Bachelor of Science In Health Professions, Masters Degree in Oriental Medicine,
Certification in Acupuncture Point Injection Therapy
Omega Institute for Holistic Studies, Rhinebeck, NY  –  1999
Completed 32 hour Healing Touch Certification, 2nd Degree Reiki
Sarasota School of Massage therapy  –  1994
Completed 540 hour Massage Therapy Training 1994
Certification in Neuromuscular Therapy – 1995
Kripalu Center for Yoga and Health, Lenox, MA –  1983 – 2005
Completed 200 Hour Yoga Teachers Certification – 1993
Completed 200 Hour Holistic Health Educator Training – 1996
In House Residential Yoga & Wellness Study Program 1991-1993
Various Training Programs in Yoga, Meditation, Health and Wellness
Credentials, Affiliations and Awards
• National Certification Commission for Acupuncture and Oriental Medicine
• Florida State Acupuncture and Oriental Medicine Association
• Association of Massage and Bodywork Professionals
• Charter Member of The Kripalu Yoga Teachers Association
• Sanibel-Captiva Chamber of Commerce
• Voted 'Best of The Islands' Massage Therapist six times
About Me
by Dr. Brian K. Healy, AP, DOM, LMT
I was born on Long Island, New York in the early 60's and raised in a middle  class, multi cultural neighborhood where I was exposed to a very wide variety of people and cultural traditions, including healing systems from all over the world.
After witnessing the chronic illness and early death of my 58 year old father in the 1980's, I really changed my views on health, healthcare and wellness. He had been suffering from Type II diabetes for over a decade and developed peripheral neuropathy and heart disease a a result.  He would also get debilitating migraines that would take him down for days.  He was working as an engineer with General Electric and had excellent health insurance so he received the best care that conventional western medicine had to offer.  Unfortunately that mainly involved lots of prescription drugs and a sheet of paper with some basic dietary guidelines for diabetics. His condition continued to worsen and began to develop all sorts of side effects from his medications.  Ultimately he succumbed to a massive heart attack.
Shortly after his passing I began searching out alternative forms of healthcare and I was introduced to yoga, mediation and vegetarianism.  I passionately dove into the world of nutrition, body mind healing and vibrational medicine.  I read and studied and meditated and went to as many classes and workshops as I could afford.  A whole new world view had opened up for me.
At that time I was taking yoga, tai chi and karate classes at a place called the Center for Wholistic Health Education and Research in Manhasset, where they also taught massage therapy and acupuncture.  That's where I had my first professional massage and became aware of the tremendous benefits of bodywork and began thinking about a career as a massage therapist.  One day I was getting treated in the student clinic and the director of the acupuncture school poked her head through the curtains and asked if I wouldn't mind if she did a demonstration of Chinese diagnostics on me for her students.  I agreed and they all stood around me as she proceeded to examine my eyes, ears, complexion, fingernails and tongue.  Next she got very quiet and felt my pulse for about a minute.  Then she proceeded to tell me my whole medical history!! She knew I had mononucleosis as a child!  She new I was suffering from heartburn and had headaches.  I was completely blown away by the amazing skill she had shown in reading my health just through observation, with absolutely no technology involved.  At that moment I knew that I would someday explore the wonders of Traditional Chinese Medicine.
During this period my love for yoga really began to blossom and I began to travel to the Kripalu Center for Yoga and Health in Lenox, MA. There I was exposed to the whole system of the yogic lifestyle, not just the postures of yoga but the underpinning of healthy living, from conscious eating to right thinking and cultivating healthy relationships.  Within a few years I moved into Kripalu, which at that time was a thriving spiritual community that welcomed guest teachers from all aspects of holistic health and I learned so much.  Deepak Chopra was a regular lecturer there, with us being a very friendly audience to try out his newly found insights into the realm of Quantum Healing.
In 1994 I earned my Yoga Teacher certification and a year later attended training to become certified as a Holistic Health Educator.  Yoga had now become not just a passion for me but a vocation as well.
Later that year I moved to Sanibel and  attended the Sarasota School of Massage Therapy and became a licensed massage therapist in Florida and in 1995 went back for additional training to qualify for my license in New York state as well. It was at this point that I began to study Chinese Medicine and the Acupuncture Meridian System.  I pursued advanced trainings in many forms of massage and bodywork from Neuromuscular Therapy and Orthopedic Massage to Acupressure and Shiatsu to Reiki and Healing Touch.
In 1995 my wife at the time and I  opened The Wellness Center of Sanibel Inc., a 3,000 square foot, full service healing center that offered yoga, tai chi and meditation classes, massage therapy, bodywork, and acupuncture. There was even a non toxic all organic salon located on the premises.  Unfortunately we were way ahead of our time and the islands community wasn't quite ready to support us so I downsized and opened a smaller office on Periwinkle Way and changed the name of the business to Sanibel Wellness.
In the following years I continued to hone my skills by working in a very wide variety of settings from health clubs and chiropractic offices as well as spending a summer working in The Wellness Center at The Omega Institute for Holistic Studies in Rhinebeck, NY.  That was another mind expanding experience as, once again, I was able to study in the presence of  many world class teachers like Ram Dass and Thich Nat Han.
One of the most meaningful experiences I've had as a massage therapist was working for Hope Hospice, providing palliative relief to patients suffering from terminal illnesses.  It made me very grateful for my health and my life, and spending time with the amazing angels that work in the hospice field taught me deep compassion and the ability to find humor and love in even the saddest circumstances.  This was also my first foray into Pet Therapy, as I would bring one of my therapy dogs Sammy and Oscar with me to see my patients.
Over the years Sanibel Wellness grew and I became well known for my deep tissue and orthopedic massage treatments.  The yoga classes I taught on the beach and at various facilities became very popular.  I brought on other therapists and instructors to share their gifts with the community.
In 2007 I traveled to India with my primary yoga teacher, Yogi Amrit Desai, to study the ancient healing art of Ayurveda.  For six weeks I was immersed in a totally different world of healing, herbal medicine and spiritual evolution.  It was magical and terrifying and beautiful and disgusting all at the same time.  When I returned I was ready to take on the next big challenge of my career, transitioning out of doing massage full time.  After 14 years of doing strenuous deep tissue bodywork my body needed a break!
In 2009 when the housing bubble burst and the economy plummeted I decided to downsize even further and finally pursue my decades long dream of becoming a Doctor of Oriental Medicine and so I enrolled in an accelerated five year educational program at the East West College of Natural Medicine in Sarasota, Florida.
I considered myself very lucky to have access to a high quality school within driving distance so for the first two years I drove the 100 miles each way three or four times a week to attend classes and clinic.  During the second half of the program I rented a small house in Sarasota and completely immersed myself in the grueling schedule of a med student.
And in 2012, despite having lost my mother to breast cancer and my dog Sammy to lung cancer in the second year of school, I managed to graduate with a 3.9 GPA and I completed an externship at the Healthsouth Rehabilitation Hospital in Sarasota.
I absolutely love being able to share the gift of health with my patients, to pass along the knowledge and skills that have been so generously shared with me.  I take great pleasure in knowing that my efforts are helping other people to live with less pain and suffering and a higher quality of life.  Every day I am amazed at how this medicine can incite the body to create healing miracles!
In my home life,  I enjoy living with my dogs and cat in a home in the same neighborhood where I work. I have a wonderful organic garden where I endeavor to raise my own fruits and vegetables, at least when then weather and various critters allow!
I often travel to the Amrit Institute in Salt Springs, FL where I continue to deepen my understanding and practice of yoga and to study with Yogi Desai.
My life has been a path of gradual awakening to the wonders of natural healing, both for myself and for my patients.  As I continue on this journey I hope to share my gifts with many more people.
I hope that this has given you a sense of who I am and why I do what I do.